Model, musician and aspiring… motor mechanic? Yes, this is indeed the trinity of Jade Indiana Rabarivelo, the 20-year old Parisian also known as Suki. The latter is a nickname, she tells—an enabler of a full circle experience considering her line of study—that "followed her everywhere" after a friend had the sudden epiphany that Jade resembled Devon Aoki's character from the Fast and the Furious franchise.
Jacket DIESEL, shirt and tie COMMISSION, trousers EYTYS, belt GMBH
Scouted at the early age of 13, the Polish, Native American and Malagasy singer/songwriter came into her own as both a self confident individual and artist through her work in the fashion industry. "I'm glad modelling happened to me, it literally changed my life and my perception of myself." Suki was in total disbelief when things started snowballing for her, having never considered herself beautiful—at that time known for heavy handed make-up to hide beneath, a time of depression she associates with eating and drinking nothing but "Oreos and orange juice—the taste of sadness."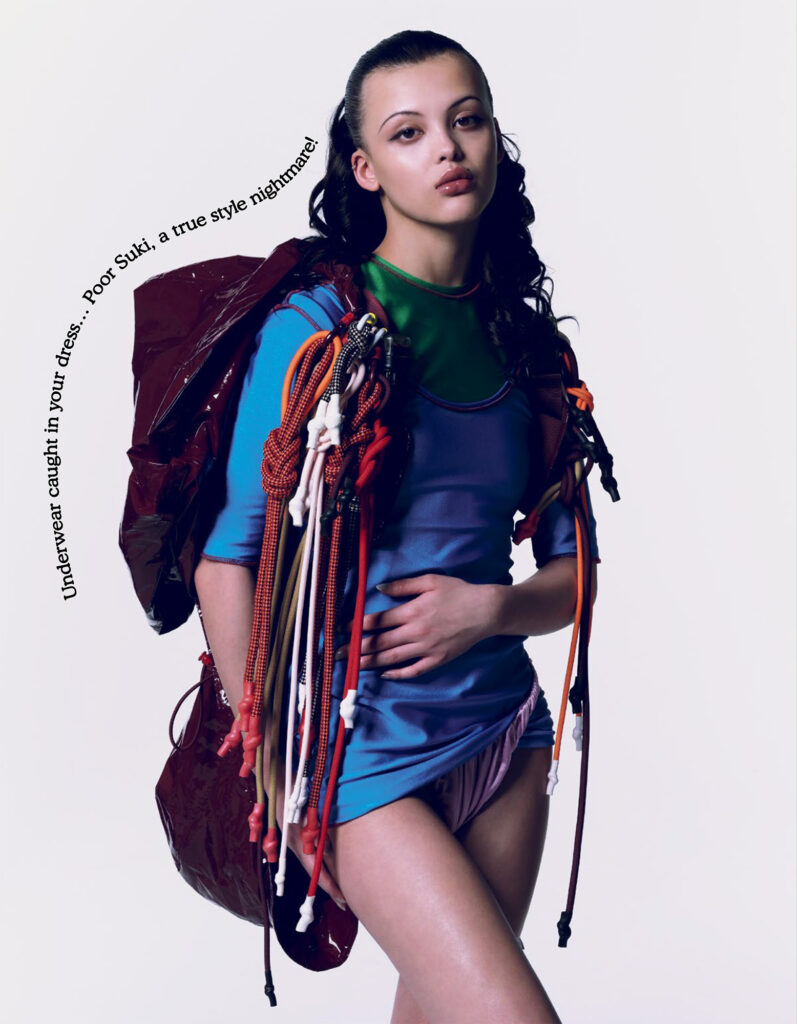 Top and dress XULY BËT, jacket LACOSTE, thong ISA BOULDER
Healthier years, better balanced nutrition regimens, and a more pronounced sense of personal style later, Suki now gathers her inspiration from her boyfriend's wardrobe and the Instagram and Twitter accounts @tourists.souvenirs and @fellinysl, respectively, and wishes to collaborate, at some point, with designer and last year's LVMH-prize winner Nensi Dojaka. Tired of layering trends and insistent on the items every person should own (a trench, a white tank and a good pair of jeans) the mini skirt enthusiast feels most drawn to earthy neutrals.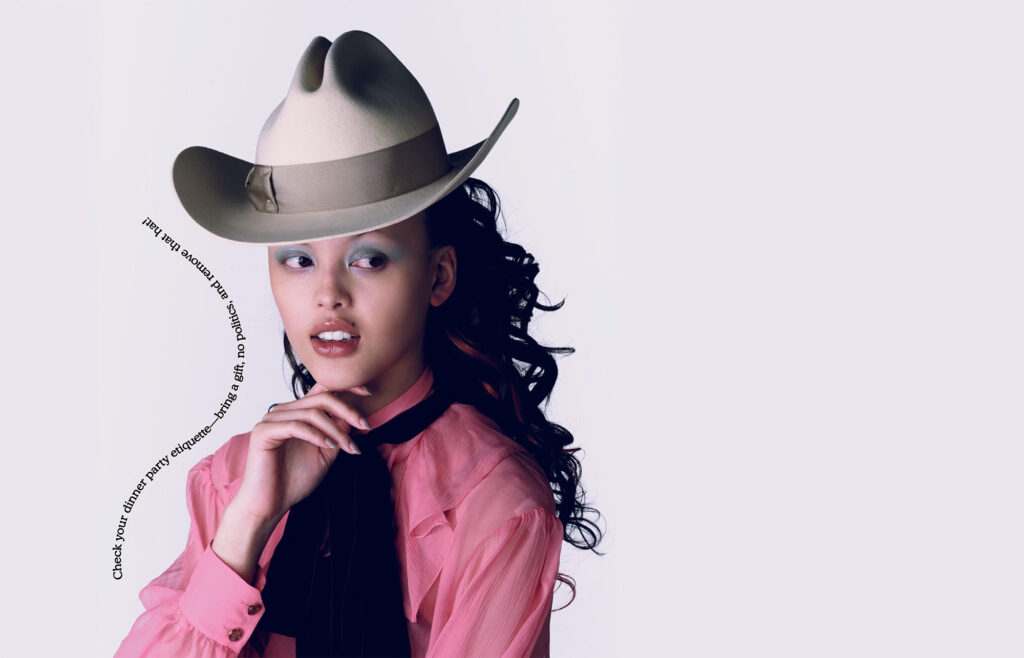 Dress, bra and hat GUCCI

Some of her favourite work, looking back, has been with Paolo Roversi for Self Service magazine, Mert & Marcus for Beauty Papers, and a Hugo Boss campaign shot by Harley Weir in Berlin's Hansa Studio, "where legends such as David Bowie and Depeche Mode recorded the biggest hits of their generation." When Suki refers to the "crazy energies" that radiated within these rooms, her passion for music, and the excitement over her looming debut EP becomes even more apparent. Thus far, Suki has four singles to her name, all of which are sombre-voiced, breathy, synth-tinged proclamations of admiration or a burgeoning lack thereof, interspersed eclectically with dance"oor friendly tempo changes and beats.
T-shirt DE PINO, skirt, shoes and handbag ABRA, hat MAISON MARGIELA, earrings, necklaces and bracelets ANDREAS KRONTHALER FOR VIVIENNE WESTWOOD, handbag DIESEL, handbag D'HEYGERE, socks stylist's own
"I grew up with a lot of funk, soul and jazz, and then when I was a bit older I listened to a lot of metal and hard rock," she remembers, placing additional blame on her guitar-playing dad and her dancer mother for instilling her with an urge to communicate feelings more so through poetic measures, than being particularly matter-of-fact: "I never really knew how to express my emotions or empathy with words but I always loved writing. I started writing novels and poems when I was younger, at the same time I was learning how to play instruments so I thought combining both would be a good idea. I wrote my first song when I was around 8, and it was about a boy I was in love with. I never played him the song and he never liked me back."
Left: Top and shorts LACOSTE, dress DRIES VAN NOTEN, shoes ASICS, earrings D'HEYGERE, socks stylist's own
Right: Top, bra and skirt LOUIS VUITTON
While her craft has surely become more refined and her desire to liberate her ideas from the pages of her diary more pressing, the subject matter remains, it seems, largely the same: "I mostly write about relationships, but not only the romantic ones. It can be about a lover who broke my heart or about how much I love my cat." As far as peers go, her dream get-together is with either digipop-experimentalist 100gecs' Dylan Brady or rapper 6lack—each of whom, one could assert, are known for detailed, distinguished approaches to using music as a mirror of the chaotic mess that can be the human condition.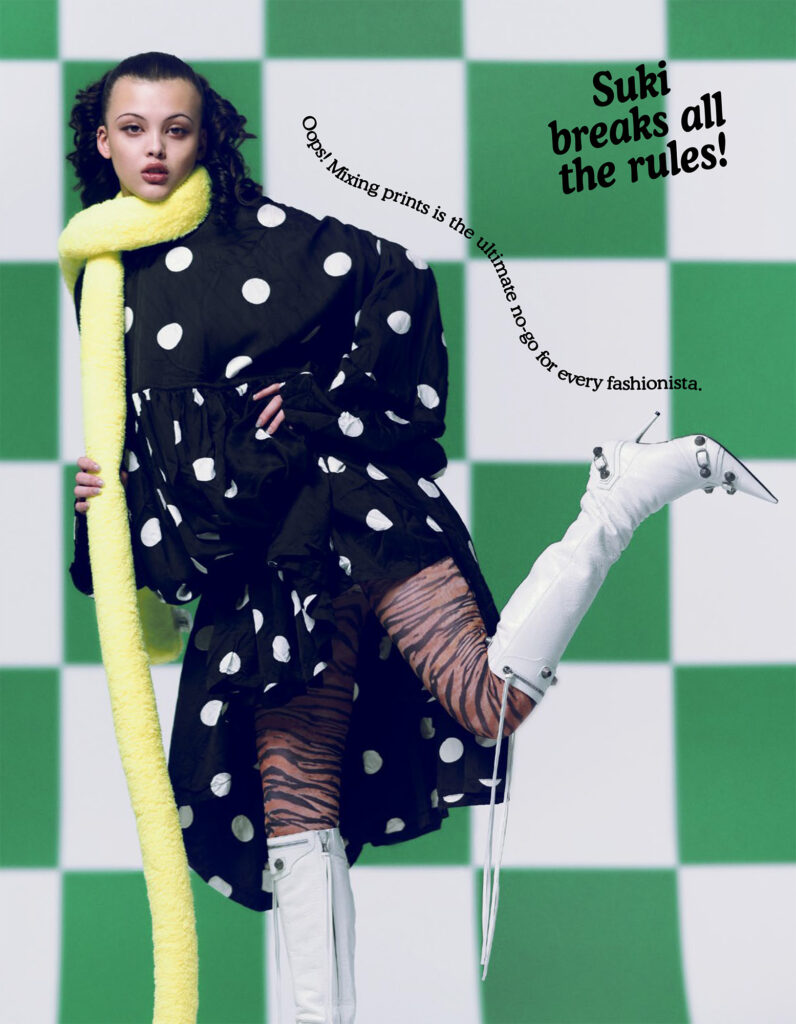 Full look BALENCIAGA
Attentive to the shifting shapes, good and bad, of the world and specifically the two professional realms she now nestles in between, Suki believes "this era we are in has lots of useful resources and made some really great things happen." It is with this hopefulness that Suki succumbs to her trajectory, a fast but by no means a furious one, wanting to create a sound that is "nothing and everything" and, most importantly, honest.
Top left: Top DE PINO, shorts LACOSTE, shorts ISSEY MIYAKE, boots UGG, bag DIESEL, earring MARRKNULL, cap model's own
Top right: Coat and shorts MAISON MARGIELA
Bottom: Cardigan IAGO OTERO, t-shirt ABRA, cap stylist's own, earrings ANDREAS KRONTHALER FOR VIVIENNE WESTWOOD
Photography ADRIEN TOUBIANA at MIRRORMIRROR
Styling RACHAEL RODGERS Talent JADE RABARIVELO at SPECIAL BEAUTIES
Hair MICHAL BIELECKI
Make-up AZUSA KUMAKURA
Photography Assistants THIBAUT VASSEUR, ANOTINE QUITTET, ZAKI MAAYOUFI
Styling Assistant ISAAC PÉREZ SOLANO
Production JULIUS SALVENMOSER at SERVICES UNITED