From her home on the Balearic party island of Ibiza, Róisín Murphy muses on the current state of music and the makings of a new record.
Exercise is one of the things in our age of pandemic and turmoil that has been bringing Róisín Murphy joy lately. "The pain, in the beginning, is terrible," she starts. "But now I'm turning into a gay man: pumped, highly sexed. I've been up and down mountains. I'll have that six-pack."
When we speak, Murphy—by her own admission—is "a puddle on the sofa." She has spent the early morning hours hiking through the mountains of her adopted home in Ibiza, and yet—puddle or not—one gets the sense that it would take the combined power of all the world's mountain ranges to exhaust even an iota of Murphy's vitality. After all, hers has been a career, and indeed a life, of peaks—of riotous exertion on and off the stage, and of ferocious insatiability.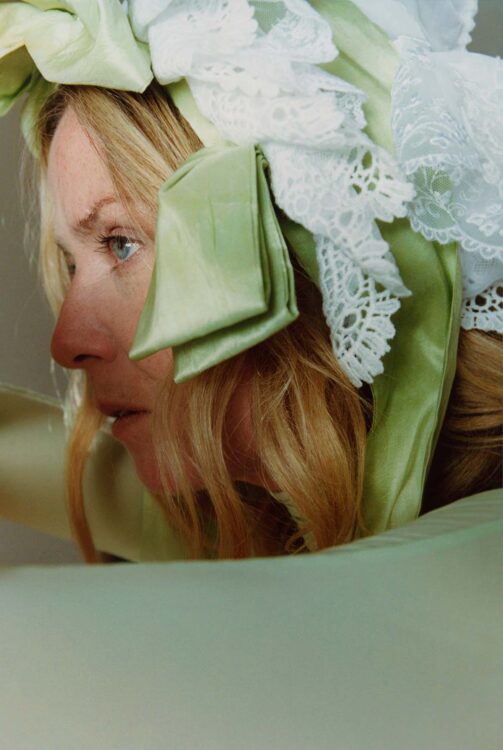 Hat ADRIANA HOT COUTURE Top SUNNEI
In the '90s, Murphy was one half and lead vocalist of electronic duo Moloko: the dynamite force responsible for the chart-smashing, floor-filling, 'Sing It Back', and a string of other club hits. But the Irish-born singer has been thriving solo in the three decades since, and the last few powerhousing years have seen rewarding new successes. In 2018, she headlined the inaugural Homobloc, a 10,000-strong queer dance party in Manchester. October 2020 saw Murphy release Róisín Machine, her fifth solo studio album and also her most critically and commercially acclaimed thus far. Murphy's post-Moloko career has been defined by baroque, avante-garde tastes both in the studio and on stage. A month before we meet on Zoom, I see her emerge on stage in a flood of delicious drama and trademark madness at the sweaty climax of the once-a-year-clubathon that is NYC Downlow inside Glastonbury's Block 9. It's an endeavour known for drag queens and debauchery, but she tells me she "didn't really have a mad one."
In terms of both life and art, what Murphy seems to yearn for these days is balance. On 'Something More,' a mellow, slow-yearning track on Róisín Machine, what elides her beyond the hedonistic offerings of 'lovers,' 'castles' and 'luxury', is a deeper satisfaction than mere pleasure. "I have some sort of bizarre balance going on. It may very well be teetering on the edge… but I have some discipline," she laughs. It's not about having willpower—it's about having distraction from the fact that you haven't got any fucking willpower!"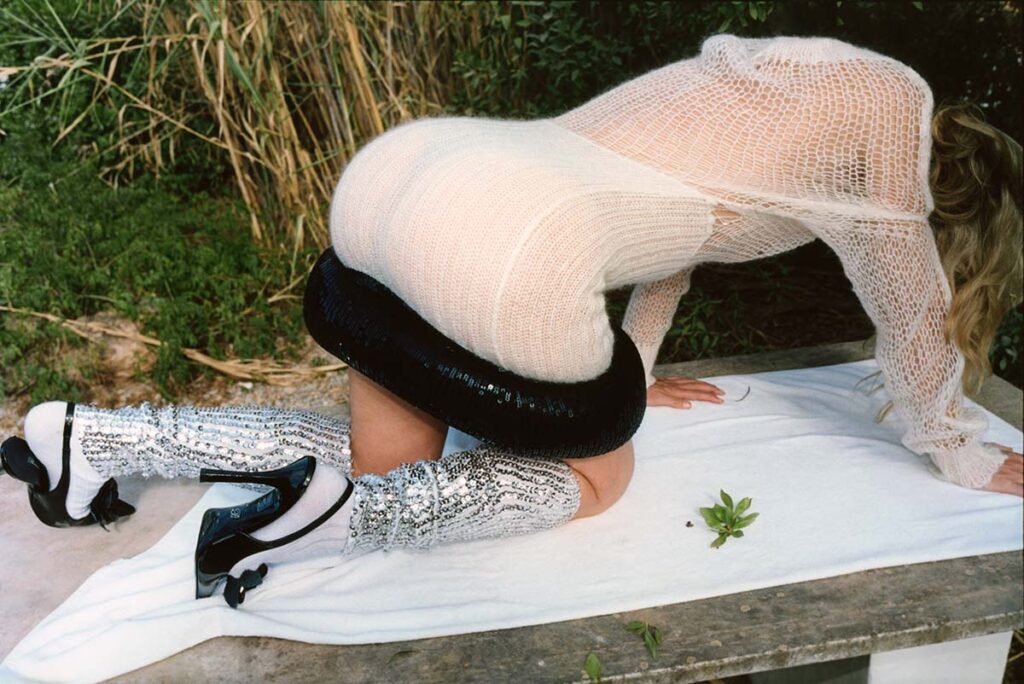 Dress ALL-IN STUDIO Socks ADRIANA HOT COUTURE Shoes BLUMARINE
Murphy, like all the best people in the world, does not take herself painstakingly seriously. In conversation, her humour and irreverence render her a delightful, compelling storyteller. Occasionally and without missing a beat, she perfectly affects the accent and intonation of an archetypal old-world cockney raver—crooning as if regaling with tales of time-gone-by in the corner of a club smoking area. Befittingly crowned with the honorific of 'gay icon', her camp sensibility seems to permeate all aspects of her life and work. The music is extra. The clothes are extra. Murphy is extra. She is determined to give something back to Ibiza, to leave her own idiosyncratic imprint on the much-loved Balearic island—ideally to start a party away from the chaos of high season.
The pause of the pandemic has been a febrile time for her music. Aside from spending time "dancing like a mad-woman round the park," she's also collated ideas and composed a whole new record, which, she says, is "just about ready." This October, Murphy will make her triumphant return to headline Homobloc, but in the meantime, I spoke with the legendary musician about her life now, what this present and glittering age of music holds for her and her next record, and the gospel according to Róisín.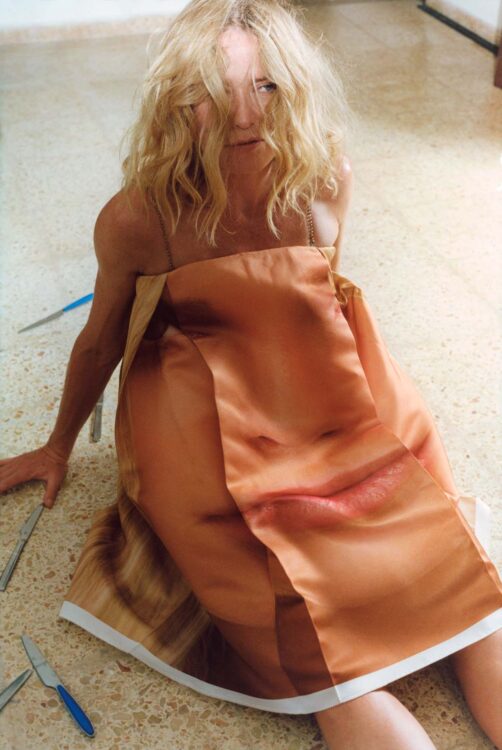 Dress LOEWE
OTAMERE GUOBADIA: What are you listening to right now?
RÓISÍN MURPHY: I'm really excited about music. I think we're living in a golden age actually. I do these playlists. One is called 'Mum's Old School', which is sort of more back in the day, the other one is 'Róisín Caviar', which is more fresh. I'm into Kaytranada and Moodymann. Yves Tumor, who played before us at Glastonbury, is brilliant. I found this girl called System Olympia recently who's brilliant. Check out my playlists!
OG: I've listened to them, I rediscovered that gorgeous old Serge Gainsbourg song on there.
RM: 'Sea, Sex, & Sun', that one! OG: Yeah!
RM: There's so many people out there now who would be perfect for me to work with. Everything is melding from all around the world. I just love it. A kind of World Music in a way where it's actually fusing, and becoming universal experimentalism; it's terrifying in terms of putting out records because there are just so many great bloody records out there. I don't think I've ever seen such a good time for music. There is this return—certainly in the music
I'm drawn to—to real studio craft and musicianship, and things that aren't easy to do, balancing a lot of plates. It's just wide open. It's like the '70s, you know, as good as that. Brilliant.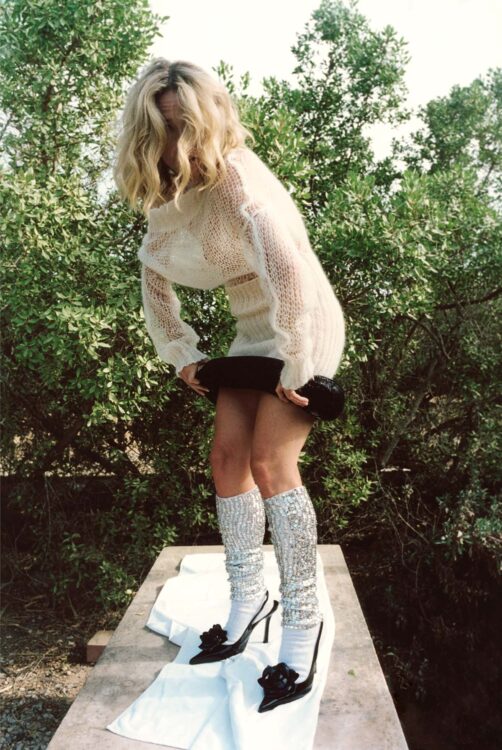 Dress ALL-IN STUDIO Socks ADRIANA HOT COUTURE Shoes BLUMARINE
OG: Looking back, what do you see as the most pivotal moments in the makings of Róisín Murphy?
RM: There are three moments in my life that have created what I am as an adult. The first is when my mother and father broke up. I was 15—I stayed in Manchester, and I found my way. When I turned 16, I moved into a flat of my own, and that was it. I went off in my life on my own. That's very much who I am when my back's up against the wall. I make a decision. Then meeting Mark Brydon in Sheffield a few years later. He taught me everything. 80% of what I still know is what he taught me. Then going solo with Ruby Blue, which wasn't even a case of 'I'm going solo,' it was that Moloko fell apart… or not fell apart, we went out strong—Statues was an amazing tour—but we weren't going out with each other anymore, and we couldn't deal with it. So we stopped Moloko and I had never tried to do anything big with anyone else. I was lucky enough that it was Matthew Herbert, who's like the most nurturing of all the producers that I've worked with. We did it in six months. And we were very disciplined, and it showed me I could work in a totally different way with a totally different person, and the result could be good. And those are the three major points of what makes me what I am today, love!
OG: You've got the grit, and the steel, and the drama.
RM: That's what's made me! I would also say, just loving music… It sounds like I'm making this up, but I'm not. It's the honest truth. Loving music from being a child and then becoming an obsessive music fan when I was 13/14/15 in Manchester, and where that ended up taking me in terms of the people around me: the friends I had, who were fuck- ing great people. Most people who love, collect, and adore music are lovely people. It's a really good filter, first of all. Then they were interested in books and cinema, plays, and all sorts of things—I got really into architecture. And all that was outside of a school, outside of my parents. This was years before I even thought about making music, but I was obsessed with it. I was going to the clubs and I bought records all the time. I played them to death, you know, I'd play them like 70 times.
Left: Bag LOEWE
Right: Hat ADRIANA HOT COUTURE Top SUNNEI Trousers and belts MIU MIU
OG: What is the gospel these days, according to Róisín?
RM:I believe in myself more than I ever did. I'm not 100%, but I believe in what I've done already, so I feel like maybe what I do in the future can be really good as well. I believe in family very strongly. I was the type of person that always wanted children, and I'm very close to my parents. I believe in connection through the generations, and in not judging people because of their age, whether it's because they're too young or they're old. I believe that when I'm in a flow state, I'm not a gender. When I'm singing or dancing or performing—and that's why I perform the way I do—it's free. Nothing about it is female or male or has a boundary.
OG: You mention not judging people because of their age. I love that we are seeing a wave of popstars like Rina Sawayama and Self Esteem coming into their own who aren't just teenagers.
RM: Self Esteem is quick as a whip, isn't she? There's more control being taken by artists in all forms, all areas. The most interesting artists are creative about the business now. It's easier to be like that when you've made a few mistakes over the years. You can kind of say to yourself, 'okay, when I didn't believe in myself, I didn't push my agenda as hard as I could, either in the business side or the music side.' Honestly, I don't think I've ever had to back down that much at all, but I'm able to take much more ownership and control now. That reflects what's going on in the industry as a whole. A lot of myths have been burst about— 'it has to be done this way with this kind of entourage' and 'this sort of person doing this, that sort of person doing the other.' And oftentimes, that's not very good advice. I've started to realise that I'm as experienced as anybody in the industry, so I take a lot of my own advice.
Left: Top LOEWE, Gloves Stylist's own
Right: Dress FIDAN NOVRUZOVA Shoes ALL-IN STUDIO
OG: What's your workflow like?
RM: I'm not overly rigorous throughout my life, but I'm very rigorous with work—I'm on top of everything. In fact, perhaps I micromanage too much, but I've been in that position many times, where I've got to micromanage things. I go through everything with everybody. They see me come in and they get scared—the lighting person or the cinematographer or the photographer. I mean, I am a natural editor. Across everything. You allow yourself to burst, and then choose, that's all there is to it.
OG: You make it sound so easy!
RM: You have to know you can choose, before you start, to be free. You have to know, 'okay, I'm gonna edit it,' so then you can do things you don't expect yourself to do. With music and visuals, your eyes and ears are very important. Sorry, to be very obvious. Eyes and ears need to be kept clean and happy. I get great joy out of me eyes and ears. Really, most of my sense is in those areas. I can be sensual, you know, in other ways! But in general life, I'm preoccupied with what I'm hearing and seeing. During the process of editing, your eyes and ears can lie to you, especially when you've got yourself in the middle of the thing. You've got all sorts of hang-ups you wouldn't have if you were editing somebody else singing or posing or dancing. So you have to check yourself all the time too, and try to constantly be somebody removed from the image, or who hasn't heard the piece of music before. It's not that easy.
OG: It's certainly easier to be more generous with other people's work than your own. You bring in your own preconceived notions about how people will perceive you, and often those notions aren't wholly correct. They're what you think other people expect of you, not what they necessarily see.
RM: Yeah, because that process doesn't allow you to be surprised by yourself. The thing that came out of the subconscious is almost always the best, and usually, the first time is always the best too—with me anyway. Oftentimes there's an energy to that. But you do have to check yourself too and say no, it's not. Sometimes it's the later one. Allow yourself to delve across those equators. The quick and slow thoughts.
Full looks LOEWE, Gloves Stylist's own
OG: How was your night at NYC Downlow?
RM: Brilliant, that night. Talking about great DJs, Paulette before me was just so good. The vibe on Sunday night was absolutely lovely. It's a great achievement. Block 9 is always awe-inspiring, it's like a proper big movie set. The vibe inside of Downlow is also incredible.
OG: What can you tell me about the new record?
RM: Well, I made it in complete collaboration with DJ Koze, the German DJ and producer. I did a couple of tracks on his album, like five years ago. That started the kind of relationship where he was sending me tracks, and I was sending him back vocals—bits and pieces over the years when I went on pause to finish Róisin Machine. I've been working on other projects at the same time, but this one has come to fruition. I've done a good thing, you know, I'm not signed to any record label. It's done, and I can take it around now. I can put it in the right place or put it out myself or do whatever the fuck I want. It's a good position to be in. This is a good record. This is outrageous. People are gonna be like, 'ah she's fucking done it again!', 'how did she do that again?' It'll completely split all your preconceptions, break you open, it's just a totally different thing. But brilliant, brilliant.
OG: What's this era going to look like aesthetically?
RM: If I tell you, somebody's gonna copy me, that's for sure! [Laughs]. No, I don't mean that. But it's something you can't scroll past. You can't scroll past the music! The audio is so totally unique and it catches on you, so it has to be a visual that matches the complete otherworldliness of it.
Full looks LOEWE
OG: You always bring the drama.
RM: Oh darling, you know I'll bring the drama. There are these lovely young designers that want to work with me and it's fun. Clothes: it's a love-hate relationship.
OG: What's the hate part?
RM: Oh, it's a constant wrangle you know, and a struggle. Just trying on clothes is really hard work! You have to try on a lot in the edit process, it's very physical. It's not like going through pictures.
OH: When you've set the bar so high…
RM: I can't suddenly just turn up in a pair of fucking jeans! I keep joking that I'm going to age like a French woman. This is my dear wish: to not have to have too much done, and to always have a bit of rock and roll about me.
Full looks LOEWE
Photography Gwénaëlle Trannoy
Styling Rachael Rodgers
Talent Róisín Murphy
Hair Faye Brown
Make-Up Lilli Kelly
Production Services United
Photographer Assistant Valentine Riccardi
Styling Assistant Isaac Pérez Solano