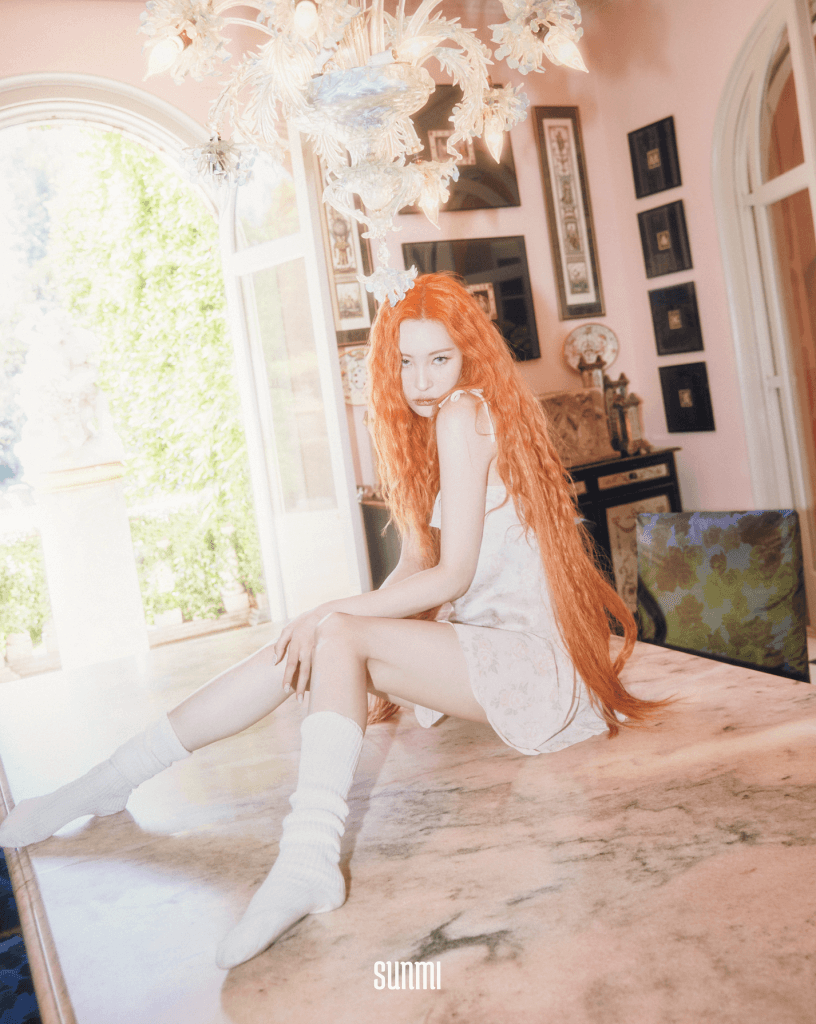 Warning: Sunmi is officially too hot to handle.
Following the release of "Oh Sorry Ya" as part of Spotify's EQUAL initiative in celebration of International Women's Day, our faithful Heroine of K-Pop returned to provide a scorching summer single at the tail-end of last month, called "Heart Burn."
True to anything Sunmi does, it isn't quite your typical summer track: buried within the dreamy, sun-drenched vibes, there's a lingering somber undercurrent – that quintessential "Sunmi Pop" brand of sad magic unique to her music.
The delightfully morbid accompanying music video drives the point further, and the temperatures higher, as the singer-songwriter – newly dyed bright orange-red, right in time for the season – finds herself falling madly in love across the decades, only to have the men drop like flies from sky-high fevers, as she jump-rope dances her way through suitor after suitor.
I caught up with Sunmi – for the second time this year, and I do hope to make it a habit! – to talk about the inspiration behind her dreamy summer comeback and its connection to last year's seasonal offering, her distinct choreography choices, her upcoming hosting gig taking over for Jessi on the talk show Showterview, and what's to come from her upcoming GOOD GIRL GONE MAD Tour, kicking off in August and heading all over Europe and North America. (Click here for tour dates and ticket info.)
And remember: please hydrate.
How would you describe the sound/vibe of "Heart Burn"? It's so perfect for summer.
"Heart Burn" has a dreamy sound and chill vibe. I'm happy you say that it fits well for summer.
Your mood teaser for "Heart Burn" started with the sound of "Pporappippam." Is there a connection between the two songs?
Both songs compare love with summer. "Pporappippam" compares love to a summer evening, while "Heart Burn" compares love to a summer day. I think summer is a great season for love.
What is the message behind the lyrics?
The lyrics to "Heart Burn" are about a woman suffering from a love fever. Because she loves someone so much that she develops a fever and heartburn. Watching the "Heart Burn" music video will help you understand the lyrics more.
The music video is set in different time periods: 1966 in Los Angeles, then 1856 in Texas, 1928 in Bogota and 1969 in Tokyo. Was there a reason for those picks?
There is no deeper meaning or reason. The music video director selected time periods that could visually clearly show the change of time and place.
Your choreography is always highly anticipated. There's always something memorable to learn. I have to ask about the jump-rope dance moves. The scenes of you happily dancing as men die are striking. How did you decide on doing that move?
I choose the choreography based on its uniqueness. I don't believe any other singers performed the jump-rope dance on stage. Because a lot of people always want something different in my performance, I want people to enjoy my jump-rope dance.
How about the usage of the big fans during the live performances?
I chose [dance team] Aura's choreography with large fans, because the fans fit the Korean vibe of "Heart Burn."
You made an original song for Hook dance crew ("Too Young to Die"). Has Street Woman Fighter influenced your choreography?
I had the opportunity to work with Monica, who had a great figure in Street Woman Fighter, as she gave me the choreography for "Heart Burn." Monica is a well-known dancer, even among the singers before she appeared in Street Woman Fighter, and I believe that "Heart Burn" is receiving lots of love because of her wonderful work.
You've gone orange-red with your hair for this era! What inspired the new look?
The hot summer sun inspired the hairstyle. The red and orange colors remind me of a hot, burning sun.
You also drew some comparisons to Ariel from The Little Mermaid on the Internet from fans who really enjoy your look. Was that intentional? Do you have any favorite Disney princesses yourself?
It wasn't intentional, but I enjoyed seeing fans comparing me to Ariel, and also [Brave's] Merida. I like them both as well.
You now have a lot of solo songs. Are there any songs you are most proud of, or ones that you think deserve more recognition?
I hope people listen to "Childhood," the B-side song from the album Heart Burn. Many people believe that I am only a dance performance singer, but I want people to know that ballad-like songs, such as "Childhood," are also good.
You worked with Ash on that song. Tell me about that experience, and what that song represents to you.
I created "Childhood" after watching the film The Notebook. There is a myth in Korea that first love never comes true. I was inspired while watching the scene where two lovers eventually broke up in their childhood. I am happy that many people enjoy this song.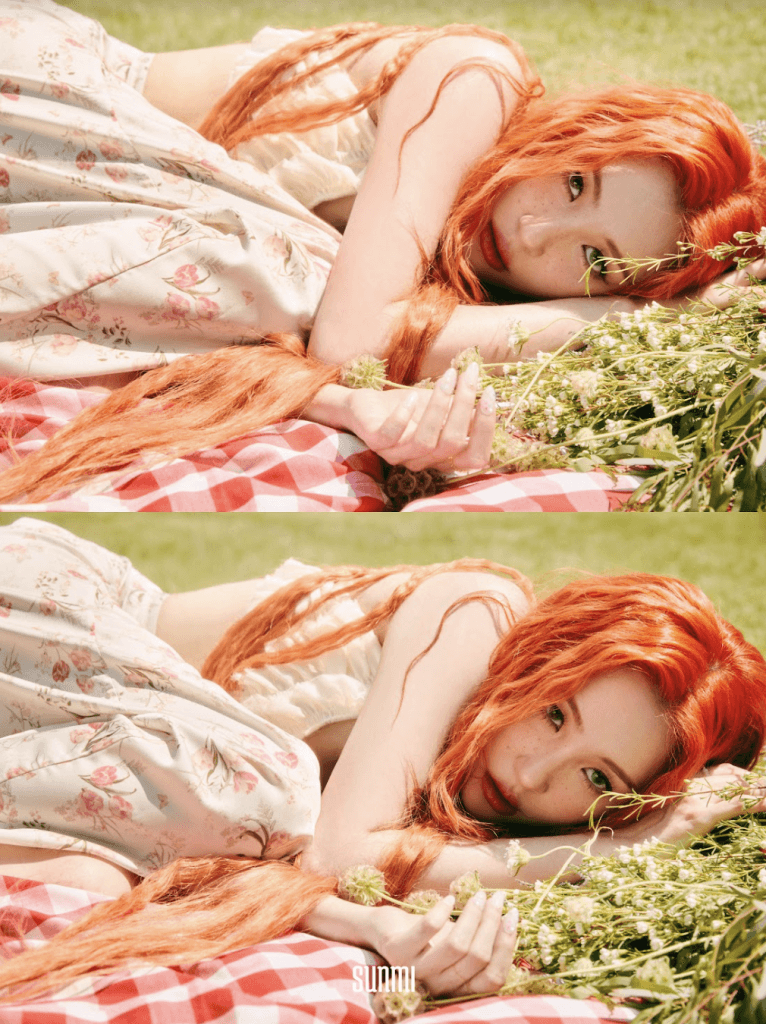 You've cited '80s music, like Phil Collins, as an influence. What have you been listening to lately?
I've been listening to a variety of music recently, and my favorite right now is "Hearts" by Marty Balin. The guitar sound in the song is fantastic, and listening with earphones makes me feel like I'm in heaven.
Also, you're taking over Showterview! What's your relationship like with Jessi, and what can we expect?
Jessi and I are good friends. I also enjoy her rapping. In 2021, I also had the opportunity to collaborate with Jessi on Ed Sheeran's song "Shivers." As for Showterview, you will get to see another side of MC Sunmi than singer Sunmi.
And it's official: you're going back out on the road for the GOOD GIRL GONE MAD tour, and it's kicking off in August in Europe and going to America. What can we expect from this show?
Recently, the band version of "Heart Burn" was released. I played the bass while singing, and many of my fans enjoyed me playing the bass after a long time. So, in this world tour, I plan to perform while also playing the bass. Please look forward to it.
"Heart Burn" was released on June 29.
Check out the MuuTunes Spotify playlist. Subscribe!
You can also subscribe to MuuTunes on Apple Music.
Photo credit: Abyss Company